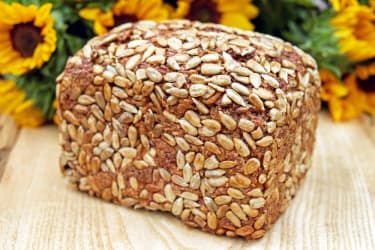 Sprouted Grain Bread
With that in mind, we humbly offer the best low-carb swap you'll ever find for bread: Bread. Specifically, we're talking about bread made exclusively with sprouted grains and legumes. This calls for some careful label reading: Many bread brands offer a standard bread with some sprouted grains and legumes added, but you're hunting something that is made exclusively of these easier-to-digest ingredients.

Sprouted-grain bread is relatively rich in nutrients but low in carbs, and just like more typical bread, sitting down and eating an entire loaf would ruin the careful balance of macronutrients in any low-carb diet. But most low-carb aficionados agree that if you budget your carbohydrate allowance accordingly, sprouted grain bread can play a role in your low-carb diet.

Perhaps most importantly, a slice of this low-carb bread swap does everything you'd expect from a 'normal' slice of bread: You can use it for sandwiches, for toast, for sopping up the last bit of soup in the bowl...you get the idea. There is one big downfall here: Because this type of bread still uses grains, albeit sprouted ones, it's not entirely gluten-free. If you need to avoid gluten entirely, you might consider tracking down almond flour bread. That's one of the few gluten-free options that also falls readily into a low-carb eating plan.